Data loss happens frequently for Mac users. It often occurs with an accidental click!
When you find yourself in this situation, the problems can seem to start spiraling out of control quickly. Those essential files have suddenly disappeared, and nothing you try to do seems to be recovering them.
When you have access to the best Mac data recovery tools available in the marketplace right now, you'll have an affordable solution to use from a highly rated product.
Best Mac Data Recovery Tools to Use Today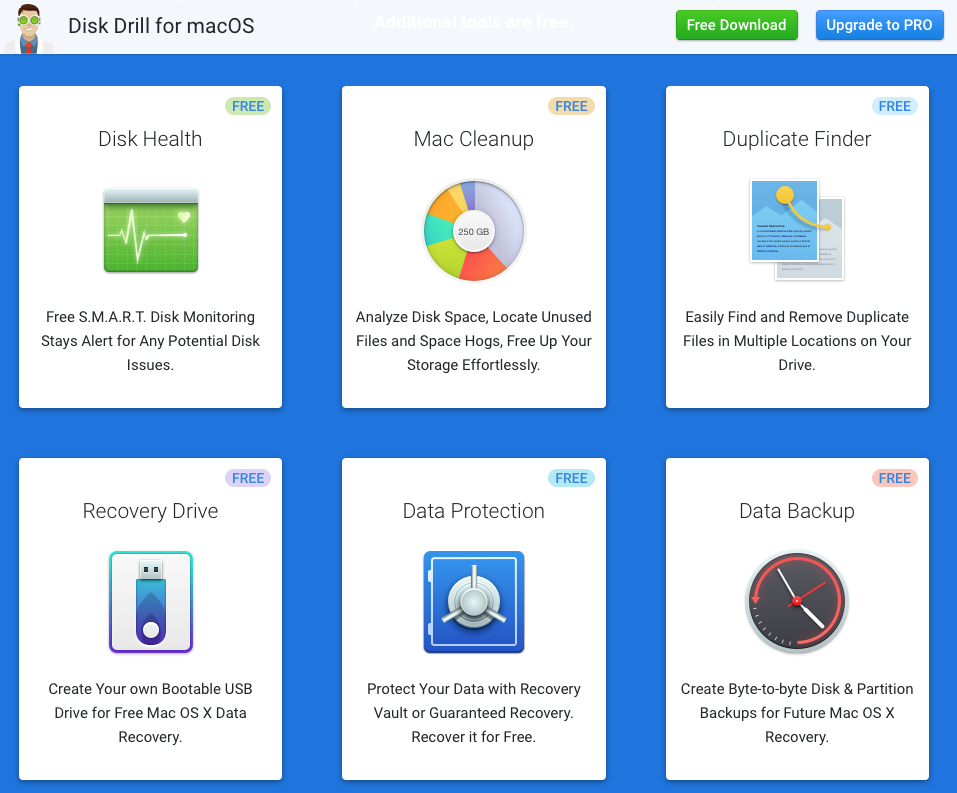 If you want simplicity, Disk Drill delivers. It's about as close to a point-and-click solution that you can find available to download right now! With over 400 file formats compatible with this recovery tool, it's one of the most effective tools you can download for your Apple laptop, computer, or Mac Mini.
Disk Drill Advantages
Disk Drill Disadvantages

You receive several free tools bundled with your download that competitors sometimes charge hundreds of dollars extra for you to access.

One-click scanning makes this software easy for everyone to use.

Users receive a free recovery evaluation.

The deep scan feature offers a comprehensive solution to locate some of the most challenging files you need to recover.

The free preview of Disk Drill for Mac doesn't offer a file recovery solution.

Telephone support isn't available if you run into issues.

The deep scan requires a time investment. 
What makes Disk Drill (https://www.cleverfiles.com/pro.html) stand out as a file recovery tool is its overall speed and power. Although the deep scan is a little slow, that criticism applies to virtually every software platform offering a similar service.
When a recovery tool requires time to complete its work, you want it to deliver an expected result. That's what you'll receive with Disk Drill for Mac. It finds the missing files that you need from one of the most comprehensive recognition algorithms available right now.
Since the interface is user friendly, almost anyone can use this product to quickly find and recover their missing files. It looks and feels like the different menus and windows on a Mac you'd use for regular navigation.
What Is the Price of Disk Drill?
You'll pay $89 for the PRO core download. If you purchase the lifetime upgrade, it'll cost another $29. Promotions and limited-time sales may reduce this cost for some users. This price includes one user with up to three activations.
The Enterprise edition is $499, with a lifetime upgrade available for $99. This option provides access to ten users with infinite activations. Choose this option if you require a commercial-quality recovery package.
What Do I Need to Run Disk Drill?
Disk Drill for Mac requires macOS X 10.8.5 or higher. You'll also need a minimum of 22 MB of free space on your HDD or SSD to run the recovery tool.
2. Paragon Backup and Recovery for Mac

If you don't need a commercial-use option for your Mac data recovery requirements, the community edition from this provider offers an excellent value. Everything you need to protect your data is always available. Should your operating system get corrupted or damaged, you can access backups, restore from file and point, and schedule your needed services.
Paragon Backup and Recovery Advantages
Paragon Backup and Recovery Disadvantages

This tool provides a straightforward user experience that makes learning easy.

It offers a dual backup and recovery feature to maximize file retention.

A support forum is available, although it isn't always active.

It offers limited file system supports, although it does include Apple HFS+.

The community edition doesn't support partition disks or volumes.

You must upgrade to the commercial version to receive notifications. 

You won't have the option to clone disks. 
The best Mac data recovery solutions should let you find the files you need on the spot, and Pargaon (https://www.paragon-software.com/us/free/br-free/#features) works hard to accomplish this outcome. This goal should work to improve information integrity while ensuring consistent access to everything needed for work or at home.
When you select the community edition, it is available without cost. The stipulation is that it must get used for non-commercial purposes, which is why the overall functionalities are somewhat limited.
Almost anyone can use this tool without needing significant IT skills. If you decide to use the more advanced version with its unique features, it does help to have some technical or programming experience.
What Is the Price of Paragon?
The community edition of Paragon Backup and Recovery for Mac is free to download at any time.
If you want to use the hard disk manager for data recovery and more, the home edition is currently at $79.95.
Anyone working within a business environment must upgrade to the Professional edition. This structure offers four tiers to consider.
The Workstation Edition is $99 for a single device.

You can get the Server Edition is $499 per device.

The Technician Edition is $599 per device.

Select the Enterprise Edition for multiple devices, starting at $899.
What Do I Need to Run Paragon?
The current Mac data recovery tool only supports the macOS Catalina versions. Big Sur options are listed as "coming soon" on the website.
3. RStudio Data Recovery for Mac

RStudio (not R-Studio) provides a commercial-level data recovery tool for macOS computers. The design allows users to go through a three-step process that makes it simple to find lost files. This tool has been available for download since its first version was released in 2003.
RStudio Data Recovery Advantages
RStudio Data Recovery Disadvantages

Users receive a practical preview pane that lets them see files before the recovery process starts.

It supports almost every disk-based storage type available in today's marketplace.

The recovery process only takes a couple of clicks to complete. 

It comes with a limited money-back guarantee.

This software has a free trial, but it offers limited functionality.

Users have minimal access to data protection.

The deep scan feature is extremely slow, even when compared to competitive platforms.

This tool is meant more for professionals.
What makes RStudio (https://rstudio.com/products/rstudio/download/) such a practical tool is its straightforward approach to recovery. Instead of dictating the file types or deletion methods that are accessible, you can approach restoration from almost any circumstance.
It is possible to recover lost data from accidental formatting, virus encryption, and deletion from your Mac's trash can. With a little work, some people can even find files after a factory reset occurs.
You'll have support for all of today's popular audio, image, video, and document formats when using this tool. Although the device view is a little complicated for some, the overall experience is a positive one.
What Is the Price of RStudio?
RStudio provides a desktop version that's free to use. It comes with the integrated tools only.You can also use an open-source license for RStudio's server product. It includes access through a web browser.
The commercial license for R-Studio Desktop Pro is $995 per year, while the Server Pro product is $4,975 annually. For the latter option, you'll get up to five named users. 
What Are the System Requirements for RStudio?
RStudio currently requires macOS X 10.5 Leopard or above to operate. You'll need a dual-core processor and at least 100G of disk storage available.
4. Lazesoft Mac Data Recovery

If you're operating an older Mac that is incompatible with other recovery tools, this option could be one to consider. It works fine for anyone with Catalina installed, or any of the older systems before it.
Lazesoft Advantages
Lazesoft Disadvantages

The interface is intuitive and easy to learn how to use.

It's one of the few tools that works well on older macOS computers.

You have access to a comprehensive preview pane that lets you see what to expect.

You can recover unlimited gigabytes of data for free.

It offers limited file format recognition options.

The fast scan only accesses working storage devices.

If you have the most recent macOS update operational, this download might now work for you.
Since this data recovery tool is freeware, you kind of get what you're paying for with this software. Although Lazesoft (http://www.macdatarecoveryfreeware.com/) provides a reasonable solution for someone in a hurry or a one-time need, it doesn't have the power to offer long-term supports.
You'd want to consider one of the paid downloads for extensive Mac data recovery needs.
It does work to recover files from damaged disks, reformatting, or deletion. If you have documents, music, videos, photos, or apps to restore, it gets the job done for you eventually. You'll need to have patience when using this tool!
What Is the Price of Lazesoft?
Lazesoft Mac Data Recovery is free to all users. The 2.2 version includes support for EXFAT file systems, including data, deleted files, and information from lost or damaged partitions.
What Are the System Requirements for Lazesoft?
You must be running macOS X 10.5 or higher. It works with Mavericks, Mountain Lion, Snow Leopard, and Lion.
This tool is also compatible with macOS Server 10.5 Leopard.
What Data Recovery System Does Your Mac Need?
Are you looking for some additional resources to help you manage your Mac data recovery needs? Here are a few links for you to consider.
Here's the Bottom Line to Consider
Everyone has unique data recovery needs to meet with their Mac. If you only have a single file to find, it might be useful to stick with the free tools and software available to download today.
When you have extensive damage, dozens of files to find, or a reformatted drive to handle, one of the paid solutions could be a better option. If you stick with the best, you're more likely to have a consistent experience!
The best Mac data recovery options will help you find and restore your files quickly. Download your preferred tool today to get started!